History
Being confident of this, that He who began a good work in you will carry it on to completion until the day of Christ Jesus.
Philippians 1:6
Celebrating 40+ Years of Faithful Service
For more than 40 years, the people who make up the Girrawheen Baptist Church have prayed, laboured, given persevered and made sacrifices, that the life and witness of Jesus Christ may be evident and effective in this community.
On April 28, 1972, Rex Gabrielson was appointed as Worker Pastor. Pastor Rex had received Theological training and pastored a Methodist Church in the Eastern States prior to returning to Western Australia. He returned to Western Australia and completed one year at the Baptist Theological College. Whilst residing in Hamersley, Pastor Rex and his wife Faye, threw themselves wholeheartedly into the Yokine Outreach Work and it soon became apparent to us through the increasing preaching assignments that here was a man within our own ranks, called of God, gifted and able to lead us.
Beginning of Our Church
On October 14, 1973, an important date for us all, as it marked the commencement of a full time programme of Services with 14 members from Yokine Baptist Church plus many other supporters and inquirers. At this point of time, the name of the group changed from The Balga Fellowship to The Girrawheen Fellowship.
The Girrawheen Fellowship was officially recognised by the Baptist Union of Churches in 1974 and changed the name to the Girrawheen Baptist Church. Pastor Rex accepted a call as full time pastor initially for 3 years commencing in August 1, 1977. This was to be the forerunner of many renewal calls to Pastor Rex, showing the appreciation of the church membership with his services. The unbroken continuity of the leadership, together with other key personnel remaining in Office from the outset have given the Church much stability and impetus.
The new church building was opened on November 20, 1977.
The Advocate 
Pastor Rex and Faye were on the front page of The Advocate.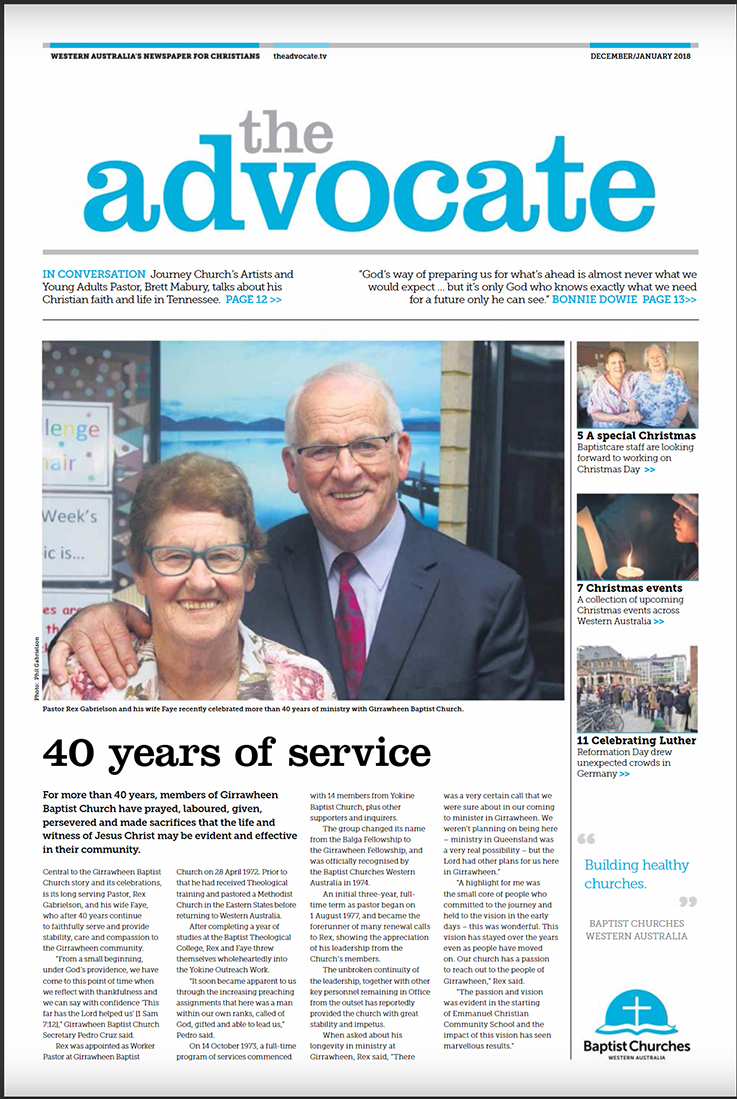 From The Advocate December/January 2018 Issue